Filterbags
konfAir has over 40 years of experience in the production of filterbags and is, therefore, the right partner to choose when selecting material and design. We produce more than 500,000 filterbags annually.
Filterbags from konfAir are manufactured primarily in needle felt, and we always find a quality that matches your needs. We provide advice and find solutions to any task -large or small.
In cases of emergency, such as fire, we always find a solution and minimize the impact of halted production. We have production facilities in both Denmark and Lithuania and, therefore, are able to provide same-day delivery in urgent cases.
Our production
Most types of needle felt are thermoplastic and can, therefore, be welded together. We use this technique on one of our three automated welding lines when joining the longitudinal stitch to ensure that we provide filterbags of a very high and consistent quality at competitive prices.

The actual design focuses on optimal fit of support cadges and cellplates.
This gives a perfect result with a filterbag that is easy to install and can be reproduced over and over again.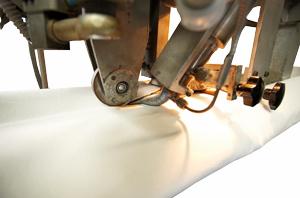 Certified for food use
Filtration processes in the food industry are subject to strict hygiene regulations and high requirements regarding static electricity.
konfAir FoodGrade filtration media are specially developed for applications in the food industry, and are tested by an external and independent institute. The results show a migration far below the legally established limits. This confirms the excellent characteristics and food security of our FoodGrade filtration media.
CIP bags are konfAir's own custom-developed design, for use in the food industry. A CIP bag has inner seams at the top and bottom and a special CIP fold.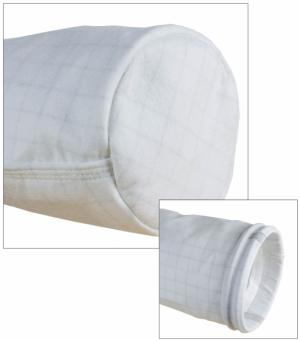 ITK Cassettes and Bacho Cassettes
At konfAir we also produce compact filter units such as ITK cassettes and Bacho cassettes.
With our own fully automated production in Herning, we have the capacity needed to provide optimal service, the right advice and fast delivery time.
ITK cassettes are compact filters with a very large filtration area. They are designed as small filterbags, each of which is supported by a spring and a special nozzle that ensures efficient cleaning. These small filter bags consist of a row of hoses with 22 small bags per row. An ITK cassette can be supplied with either 4 or 6 rows, mounted on a steel frame with custom-made gasket.
Bacho Cassettes can best be described as a whole small filter unit in itself. The cassette comes in a solid metal frame and the filtration area is constructed with 255 small filterbags, each with its own support basket and cleaning nozzle. In this manner, a large and efficient filtration area is obtained, which is simply mounted in a filter house. The cleaning nozzels are designed, so that they dispense the air optimally, this ensuring an effective cleaning throughout the length/height of the filter.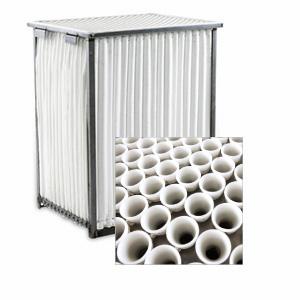 Filterbags with focus on requirements and development
By collaborating with the market's best suppliers, konfAir is able to ensure that constant focus is placed on customer requirements and market development.

We have access to TÜV certified laboratory facilities, where we offer analysis of filter components throughout their lifetime, so you, our customer, can always be confident that your filterbags provide the optimum.

Filterbags maintenance
The lifetime of your filterbags depends on several factors.
Some of these factors have been already taken into account at konfAir during manufacture, to ensure that the filter quality matches your filtering process.

Once the filter is installed, the cleaning process is an essential factor in relation to the lifetime of the filterbags.
If cleaning is carried out too forcefully, the filterbags wear out quickly, and if the cleaning is insufficient, the bags become blocked, resulting in higher energy costs.

Watch video - Cleaning process of a filter bag
---
Related products