Compact filter

A compact filter from konfAir is particularly suitable for use in ventilation systems where space is limited, but where the need for a large filter area is crucial. The compact filter fits in most standard systems and can often replace a pocket filter without modifying the filter, as they are shorter in depth (292 mm) than a standard pocket filter. The filters are primarily used in industrial ventilation.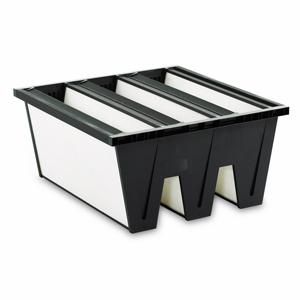 2 models of compact filters for ventilation system
At konfAir, we offer two compact filter models with mini-pleats. The difference between the two models lies in their pleat structure and media. One model is in tightly pleated micro glass fibre paper, while the other model is in tightly pleated synthetic media, which is moisture resistant and structured with synthetic binder, also known as relim pleating. Common to these compact filters is that their construction gives them a completely unique efficiency via increased airflow and they have a unique ability to capture and eliminate dust particles while maintaining a low pressure drop. They are fitted with a fixed and solid plastic frame as standard.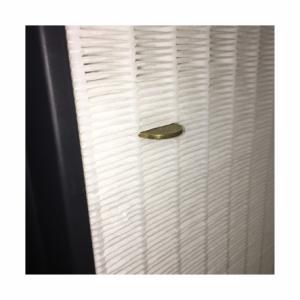 PRODUCT ADVANTAGES
Increased airflow
Large filter area
Depth filtering
Shape-stable
Low pressure drop
Long lifetime
Datasheets on request

Quality and size
A compact filter classified according to EN 1822 has an efficiency (arrestance MPPS) of up to 99% which makes them especially suitable for welding fumes. They come in various sizes. Below are the qualities that the compact filters are manufactured in:
| | |
| --- | --- |
| EN 779:2012 | ISO 16890 |
| M6 | ISO ePM2,5 50% |
| F7 | ISO ePM1 60% |
| F8 | ISO ePM1 75% |
| F9 | ISO ePM1 85% |
Each filter from filter class E11 and H13 is tested according to EN1822.
How do I choose the right compact filter for my customer?
At konfAir, we have many years of experience in choosing the right compact filter suitable for the surrounding environment. We have some in-depth questions and ask you to provide the dimensions width x height, so that together we can find the most efficient and energy-optimized filter for your customer.
ASK US ABOUT VENTILATION:
NEED HELP?
A proper ventilation is today a big part of a good and healthy indoor climate. At konfAir you get honest and professional guidance in choosing the right filters for ventilation.
Contact us by phone +45 97 13 71 33 or at konfAir@konfAir.dk
---
Related products