Pipe filter

A pipe filter from konfAir, also called a duct filter, is intended for use in circular ventilation ducts and spiro pipes.

Pipe filters for ventilation
Pipe filters for ventilation are conical and usually designed with a steel ring at the top. A pipe filter is easy to install in an existing circular ventilation duct. konfAir produces pipe filters in synthetic filter media at our own factories in Denmark and Lithuania, which means that we have both a high degree of flexibility and a short delivery time.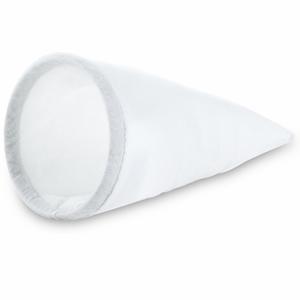 PRODUCT ADVANTAGES
Easy disposal
Optimal use of filter area
Customized sizes
Low pressure drop
Fast and flexible delivery

Datasheets on request

Quality and size
We offer pipe filters according to ISO 16890. We produce filters in three qualities, which are available in many different lengths and diameters between Ø 100 mm and Ø 800 mm. The ratio between the diameter and the length of the pipe filter is designed to provide optimal airflow and a large filter area.
Below is an overview of the qualities:
| | |
| --- | --- |
| EN 779:2012 | ISO 16890 |
| G3 | ISO Coarse 50% |
| G4 | ISO Coarse 65% |
| M5 | ISO Coarse 95% |
(We can also offer carbon pipe filters)


How do I choose the right pipe filter for my customer?
At konfAir, we have many years of experience in choosing the right pipe filter suitable for the surrounding environment. We have some in-depth questions and ask you to provide the dimensions length and diameter, so that together we can find the most efficient and energy-optimized filter for your customer.
ASK US ABOUT VENTILATION:
NEED HELP?
A proper ventilation is today a big part of a good and healthy indoor climate. At konfAir you get honest and professional guidance in choosing the right filters for ventilation.
Contact us by phone +45 97 13 71 33 or at konfAir@konfAir.dk
---
Related products