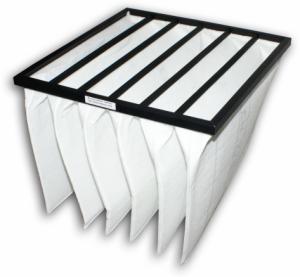 Pocket filters
When purchasing a pocket filter from konfAir, it is important to know, which particles are to be filtered in order to achieve the desired effect. We have many years of experience in the industry and together we can find the exact solution that fits your plant.
Our filters for the ventilation sector are all made of synthetic filtration media, which has the advantage that it can withstand a humid environment.
We have pocket filters in three different qualities:
- Industry
- Comfort
- Premium
konfAir produces its own pocket filters in both standard and special dimensions with welded plastic frames at our own factories in Denmark and Lithuania. This means high flexibility and short delivery time.
The frames can also be obtained in metal on request.
Guidelines
When you order pocket filters, you can see here which information we need to ensure that the product will fit from the very beginning.
Filtration principle

The filter material is built in a layered structure for optimal depth filtering. For ex. our F7 quality is made up of 3 layers, each of which performs its own task - one layer for each size of particles. This results in efficient filtration, where the particles are distributed in the best way possible on and in the filter material.

To the right are two sketches, showing the difference between surface filtration and depth filtration.
You can clearly see that the air can penetrate the felt most easily when the dust particles are distributed evenly throughout the filtration media.
This depth filtering helps to keep pressure loss at a minimum throughout the life of the filter - to benefit both your energy costs and the environment.

Welded frames
konfAir has developed its own frame profile, with a fully welded frame. The frames are standard 25 mm and can withstand up to 80 degrees.
A fully welded frame is a significantly more stable form, and this is easier to install than the click-based solutions which are less stable.
AIRFLOW

The opening and length of each pocket are carefully adjusted to achieve optimum airflow through the filter, providing optimal utilization of the entire filtration area.
The optimal filtration area is calculated for full utilization of all filtration pockets.
To the right is a sectional drawing of the pocket design.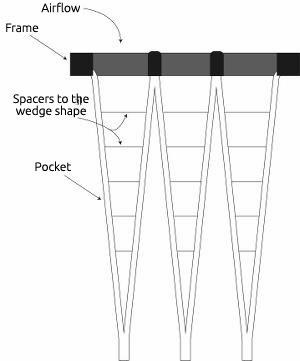 Labels
At konfAir, we can also label each filter with your own information, e.g. plant number and location. In addition, we can offer to add your company name to packing lists if you wish us to ship goods directly to your end customers.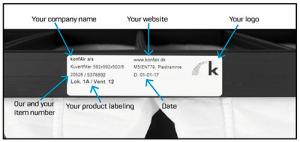 ---
Related products