Pocket filter

Pocket filters from konfAir, or bag filters as they are also called, are mainly used to improve the air quality in industrial, commercial and residential buildings, where they fit in most standard plants.


High quality bag filter for ventilation
konfAir offers pocket filters/bag filters in qualities according to ISO 16890. We produce our filters at our own factories in Denmark and in Lithuania, which means that we have both a high degree of flexibility and a short delivery time.

We produce our pocket filters with welded and dimensionally stable frames. The frames can also be delivered in metal on request. Our pocket filters for ventilation are all made of synthetic filter media, which among other things has the advantage that it can withstand a humid environment. Depending on the quality, the synthetic filter media has up to 3 layers which ensures depth filtration and thereby an effective filtration is achieved. This depth filtration and the construction of the pockets help to keep the pressure drop to a minimum throughout the lifetime of the filter – which benefit both your customer's energy costs and the environment.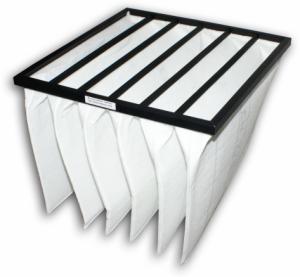 PRODUCT ADVANTAGES
Depth filtering - up to 3 layers of filter media

Moisture-resistant, synthetic filter media

Easy disposal

Low pressure drop

Welded and dimensionally stable frames
Large standard product range

Customized sizes on request

Special solutions available

Data sheets on request

Quality and size
We have pocket filters in three different qualities: Industry, Comfort and Premium.
Industry: Good quality and value for money. Suitable for most plants and frequent replacement.
Comfort: Excellent filter with large dust capacity and low pressure drop.
Premium: High-quality energy filter. Used when low pressure drop and low energy consumption are desired.

Below is our most common standard sizes of pocket filters. Several of our standard sizes are always in stock. The number of pockets can vary depending on the choice of quality.
| | | | |
| --- | --- | --- | --- |
| Width mm | Height mm | Depth mm | Pocket pcs. |
| 595 | 592 | 360 | 8 |
| 592 | 592 | 500 | 8 |
| 592 | 592 | 600 | 8 |
| 490 | 592 | 360 | 6 |
| 490 | 592 | 500 | 6 |
| 490 | 592 | 600 | 6 |
| 287 | 592 | 360 | 4 |
| 287 | 592 | 500 | 4 |
| 287 | 592 | 600 | 4 |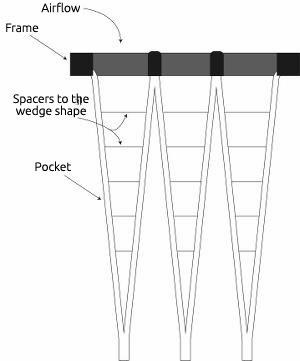 The filter material is built up in a layered structure for optimal depth filtration. For example is our F7 quality built in 3 layers, each doing its job - one layer for each size of particles. This results in efficient filtration, where the particles are distributed as best as possible on and in the filter material.
Below are sketches showing the difference between surface filtration and depth filtration.

It is obvious that the air gets through the filter easier when the dust particles are evenly distributed throughout the filter media.

This depth filtration and the structure of the pockets help to keep the pressure drop to a minimum throughout the lifetime of the filter - which benefit both your customer's energy costs and the environment. In addition to offering pocket filters in customized sizes, we also offer the following special solutions at konfAir:

Slanted pockets where space is tight
Pockets with straps for vertical airflow
Filters with metal brackets where the pockets are required to be stiff (grease, oil fumes)
Carbon pocket filters (odor problems)
Pocket filters with metal frames
Mounting frames
Labels
At konfAir, we can also label each filter with your own information, e.g. plant number and location.
In addition, we can offer to add your company name to packing lists if you wish us to ship goods directly to your end customers.
How do I choose the right pocket filter for my customer
At konfAir, we have many years of experience in choosing the right pocket filter suitable for the surrounding environment. We have some in-depth questions and ask you to provide the dimensions width x height x depth, so that together we can find the most efficient and energy-optimized filter for your customer.
ASK US ABOUT VENTILATION:
NEED HELP?
A proper ventilation is today a big part of a good and healthy indoor climate. At konfAir you get honest and professional guidance in choosing the right filters for ventilation.
Contact us by phone +45 97 13 71 33 or at konfAir@konfAir.dk
---
Related products