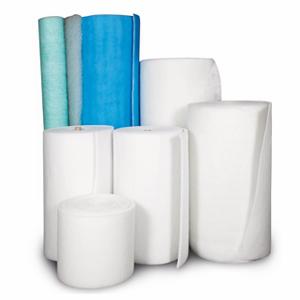 Filtration media
konfAir sells filtration media in whole rolls. This applies primarily to material for the ventilation sector, in grades G2-G4 and M5, where the medium is used as a pre-filter for a ventilation product, e.g. in front of a pocket filter or panel filter. A pre-filter is often use for filtration media where the dust concentration is very high since this significantly prolongs the lifetime of the ventilation filter.

Often we have the item in stock and we offer fast and flexible delivery terms in addition to competitive prices. If you want to receive your items in specific dimensions or cut into a specific shape, we can deliver filter mats cut directly from our CAD/CAM cutter. By letting konfAir cut the items on our cutters, you can be confident that the level of accuracy is exact, and you can use the filter mats as soon as you receive them.

Guidelines
When ordering filtration media you can see here the information we need in order to ensure a perfect product fit the first time round.
---
Related products