Panel filter

A panel filter from konfAir, also called filter cells or cassette filters, can be used in all standard ventilation systems, both for residential, commercial and industrial ventilation to improve air quality. Panel filters in higher filter classes are often used as pollen filters.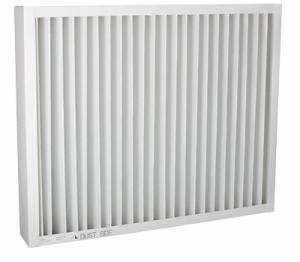 High quality panel filter for ventilation
A panel filter from konfAir is characterized by a high utilization of the filter area, a long lifetime and high quality. The filter area is optimized using precision pleats, so each fold is used all the way to the tip, allowing the maximum amount of air to pass. The panel filter is made of a stable, synthetic fiber frame, which together with the structure of the filter, in moisture-resistant synthetic filter media, makes the filter very light. The low weight and exact dimensions make the filter easy to install. When replaced, the entire filter is easily disposed of, along with regular combustible waste.

We produce panel filters with two different types of pleats, Z-line and relim. Panel filters with Z-line are used primarily on the exhaust side or as a pre-filter for panel filters with relim pleating. Panel filters with relim, also called minipleat, are often used on the supply side due to its closer pleats, for example as a pollen filter. We produce filters for various systems such as Vex/Exhausto, Nilan and Airmaster.

On request we can also supply panel filters with:

Paper or plastic frames

45-degree sides/slanted edge

Pleated on the short side

Expanded metal/support net

Gasket on the sides

Mounting frames



PRODUCT ADVANTAGES
Large filter area – low pressure drop

Robust and moisture-resistant filter media

Easy disposal

Special measurements on request
Easy to install

Large standard program

EN ISO 16890 approved

Datasheets on request

Quality and size
The panel filter can be specially designed in all sizes in the depths 25 mm, 47 mm and 92 mm. Several of our standard sizes are always in stock. The filters are available in the following qualities:
| | |
| --- | --- |
| EN 779:2012 | ISO 16890 |
| G4 Z-line | ISO Coarse 90% |
| M5 Z-line | ISO ePM10 50% |
| F7 Z-line | ISO ePM1 55% |
| M5 Relim | ISO ePM10 70% |
| F7 Relim | ISO ePM1 55% |
konfAir produces the panel filters at our own factories in Denmark and Lithuania, which means that we have both a high degree of flexibility and a short delivery time.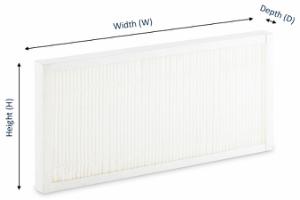 How do I choose the right panel filter for my customer?
At konfAir, we have many years of experience in choosing the right panel filter suitable for the surrounding environment. We have some in-depth questions and ask you to provide the dimensions width x height x depth, so that together we can find the most efficient and energy-optimized filter for your customer.
ASK US ABOUT VENTILATION:
NEED HELP?
A proper ventilation is today a big part of a good and healthy indoor climate. At konfAir you get honest and professional guidance in choosing the right filters for ventilation.
Contact us by phone +45 97 13 71 33 or at konfAir@konfAir.dk
---
Related products