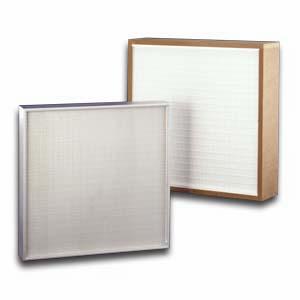 Hepa filters
Hepa (High Efficiency Particulate Air) and ULPA (Ultra Low Penetrating Air) are used where there are very high demands for clean air. The aim of these filters is to protect both humans and the environment, and they are used in various applications such as the food industry, biotechnology, the pharmaceutical industry, hospitals and so forth where there are high requirements for clean air.
Hepa filters can remove airborne particles from the air all the way to a size of 0.3 microns. The filters are characterized by low air flow, a fine filtration media, and a large internal filtration area fabricated with optimized pleating technology.
konfAir Hepa and ULPA are made of high quality fibreglass paper and ensure filtering up to filter class U 17. The frame is available in aluminium, galvanized steel, stainless steel and MDF plate with different types of packing according to use.
Each filter in filter class H 13 is tested according to EN1822. From filter class H 14 and upward, each filter is scan-tested and a certificate is attached to each delivery.
Guidelines
When ordering Hepa filters you can see here, the information we need in order to ensure a perfect fit of the product first time round.
---
Related products