Hepa filter

HEPA filter (High Efficiency Particulate Air) and ULPA filter (Ultra Low Penetrating Air) are used where the demands on the indoor climate are very high. These filters are intended to protect both people as well as the environment and are used in various industries such as the food industry, biotechnology, the pharmaceutical industry, hospitals etc.
Hepa filter for ventilation
Hepa filters are made of high-quality glass fibre paper and can remove even the smallest airborne particles such as viruses. A Hepa filter for ventilation is characterized by low airflow, a fine filter media and a high number of precise pleats that provide a large filter area. The filters are installed in the existing ventilation system. A dust filter/pollen filter, for example a pocket filter or a panel filter, must always be placed in front of a Hepa filter - partly to catch larger particles but also to prolong the lifetime of the Hepa filter.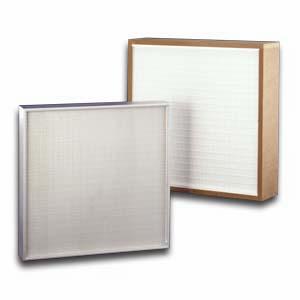 PRODUCT ADVANTAGES
Large filter area
High filtration efficiency
Low airflow
Different types of frames
EN1822-2019 approved
Datasheets on request

Quality and size
Hepa filters, made of high-quality fiberglass paper, are available in the following qualities:
EN1822:2019
E10
E11
E12
H13
H14
U15
U16
A Hepa filter is tested according to EN1822-2019. In addition, the filters in filter class H14 to U16 are scan tested and a certificate is included with each delivery. This guarantees you a quality product with a filtration efficiency of up to 99.99995%. The frame can be delivered in aluminum, galvanized steel, stainless steel or MDF with different types of gaskets depending on the application. A Hepa filter does not withstand vibrations and direct contact as this will damage the quality of the filter, therefore a Hepa filter must be handled and installed with great care.
How do I choose the right Hepa filter for my customer?
At konfAir, we help you find the right HEPA/ULPA filter based on the requirements set by the authorities and the structure of the plant. In addition, we ask you to provide the dimensions width x height x depth, so that together we can find the right solution for your customer.
ASK US ABOUT VENTILATION:
NEED HELP?
A proper ventilation is today a big part of a good and healthy indoor climate. At konfAir you get honest and professional guidance in choosing the right filters for ventilation.
Contact us by phone +45 97 13 71 33 or at konfAir@konfAir.dk
---
Related products