Metal filter

A metal filter, also called a grease filter, from konfAir is used for residential, commercial and industrial ventilation in smaller plants, where the air contains large quantities of fumes and greasy particles. A metal filter is used in for instance kitchens/hoods in restaurants and schools, paint booths, sandblasting and when undercoating cars.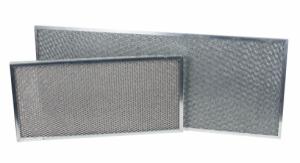 Robust and weather-resistant grease filter
The filter cell in a metal filter/grease filter is made up of woven metal wire, which is mounted in a metal frame together with a fixed metal mesh. This construction makes the filter very robust and weather resistant. During the filtration the air in the filter cools and passes, while the fat condenses and runs down a collecting gutter. With this effective filtering odor problems are reduced. A metal filter is washable and is installed in the same way as a standard panel filter in the ventilation plant.
PRODUCT ADVANTAGES
Robust
Moisture resistant

Washable
Effective against odor problems
Customized sizes on request

Datasheets on request

Quality and size
The filter media is typically produced in G2 and come in either stainless steel, galvanized steel or aluminum. The filters can be customized to suit your customers needs.
How do I choose the right metal filter for my customer?
At konfAir, we have many years of experience in choosing the right metal filter suitable for the surrounding environment. We have some in-depth questions and ask you to provide the dimensions width x height x depth, so that together we can find the most efficient and energy-optimized filter for your customer.
ASK US ABOUT VENTILATION:
NEED HELP?
A proper ventilation is today a big part of a good and healthy indoor climate. At konfAir you get honest and professional guidance in choosing the right filters for ventilation.
Contact us by phone +45 97 13 71 33 or at konfAir@konfAir.dk
---
Related products