Inlet bags

Inlet bags, also called textile ducts, are the optimal choice for large, open rooms with many people, where large amounts of air must be supplied with both cooling and air circulation such as workplaces with large offices, supermarkets, warehouses etc.

Textile ducts for efficient air distribution
Inlet bags/textile ducts are good for efficient air distribution, as the ventilation system pushes the air out through the inlet bag instead of directly into the room. This creates the best possible indoor climate with a regular replacement of the air, in order to avoid drafts and reduce symptoms issues such as headaches, fatigue and difficulty concentrating. konfAir's inlet bags weigh only a few kilos and are easy to handle during both transport and installation. The bag can also be divided with zippers for even easier installation. We deliver several suspension- and connection types. A detailed installation guide is always included.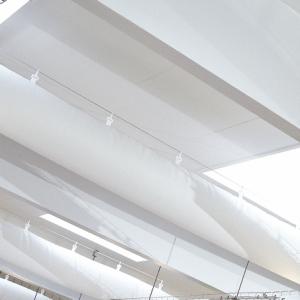 PRODUCT ADVANTAGES
Optimal air circulation
Avoid draft problems
Easy installation
Several different permeabilities
Customized design
Fire-resistant
Flexible suspension types
Datasheets on request

Quality and size
Inlet bags from konfAir can be made either round or D-shaped. They are made of fire-resistant Trevira CS material and come in several different permeabilities. Each inlet bag is adapted and calculated to fit the ventilation system and room in which it is to be installed. Our inlet bags are white as standard but are also available in other colors on request. We produce the inlet bags at our own factories in Denmark and Lithuania which means that we have both a high degree of flexibility and a short delivery time.
How do I choose the right inlet bag for my customer?
At konfAir, we have many years of experience in choosing the right inlet bag. We have some in depst questions and based on your answers, we make a calculation where we consider many parameters such as air volume, inlet speed, bag length, size etc. Hereby we ensure that the delivered bag meets the requirements and wishes that your customer may have.


ASK US ABOUT VENTILATION:
NEED HELP?
A proper ventilation is today a big part of a good and healthy indoor climate. At konfAir you get honest and professional guidance in choosing the right filters for ventilation.
Contact us by phone +45 97 13 71 33 or at konfAir@konfAir.dk
---
Related products