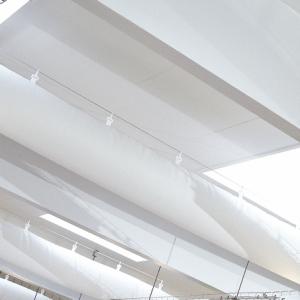 Inlet bags
Many workplaces consist of large open offices/areas with many people in the same room. This means that a large amount of air needs to be supplied every hour. If the incoming air remains in only one part of the room, the air velocity becomes high, causing discomfort from draughts for those who sit closest to the inlet. This often means that the airflow is reduced to accommodate the affected persons, resulting in a rise in temperature and insufficient replenishment of air. Therefore, the air in the back of the office will feel heavy and oppressing.
With a inlet bag, large quantities of air can be added to a room, providing both cooling and air circulation. The large area of ​​the inlet bag helps to reduce air velocity, and this avoids the occurrence of draughts. A inlet bag can often solve a wide variety of common problems, such as discomfort from draughts and temperature as well as air quality problems.
At konfAir, each inlet bag is designed and adapted to suit the room and ventilation system on which it will be installed. The calculation takes into account a wide range of parameters such as airflow, inlet speed, bag length and size, etc. In this way, we ensure that the bag that is supplied for that particular task, also fulfils the solution requirements and wishes that the customer has requested.
Installation and mounting
A ventilation bag is installed on an existing ventilation system. The principle is that ventilation air is distributed draught-free and uniformly through the customized ventilation bags. The inletbags weigh very little and are easy to handle during installation and transportation.
There are several types of mounting systems. At konfAir we are able to deliver mounting options on rails (1), using carabiner clips (2) and with a threaded rod (3).
---
Related products